Personal Wash

& Care Products

Our emphasis on quality ensures that whether they are simple bathing products or shower luxuries, each of the fragrances will heighten satisfaction amongst consumers.

Our fragrances for Personal Care products like Creams and Lotions, Toners and Sunscreen masks along with Bath Salt and Scrub, Shower Foams and Gels, Massage or Bath Oil Scrub, Therapeutic Remedies and Spa Fragrance Oils help deliver an enriching experience to customers, providing them a fragrant feeling of sheer luxury and indulgence. This holistic experience is also extended to our Hair Care and Cleansing products like Shampoos, Perfumed Hair Oils as well as Hair Sprays, Conditioners, Styling Gels & Mousse; each designed to deliver a supreme sense of pleasure.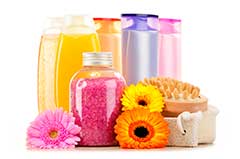 Our special range of fragrances for Men's grooming products like Creams and Lotions as well as Shaving products like Shaving Creams as well as Pre and After-Shave Creams, Lotions and Balms are created to give a sense of satisfaction, fulfilment and enjoyment to the user.

So whether one has a Dermatological Application or a simple Antiperspirant Applications like Deodorants and Talcum Powders, one can be sure that our fragrances will appeal to the consumer's senses, giving a feeling of completeness and harmony without ever offending their sensibilities.